The COVID-19 pandemic has changed the world as we know it. Many of us are now working, learning and staying connected via the internet with the help of new services, applications and devices.
With more online traffic than ever before, learning how to stay safe and remain vigilant to the spread of disinformation has never been so important.
This Safer Internet Day, we have set out some useful tips you can share with your students to help protect them online and spot disinformation.
What to do with information you find online
Disinformation is the deliberate creation and dissemination of false information that is intended to deceive and mislead, either for the purposes of causing harm, or for political, personal or financial gain. It can lead to health scares, false accusations and potentially damaging hoax stories. Recently, there has been various kinds of false information about coronavirus and the vaccines designed to tackle it.
It's not always easy to spot disinformation. To limit the spread of false information, students should use the SHARE checklist before sharing news online.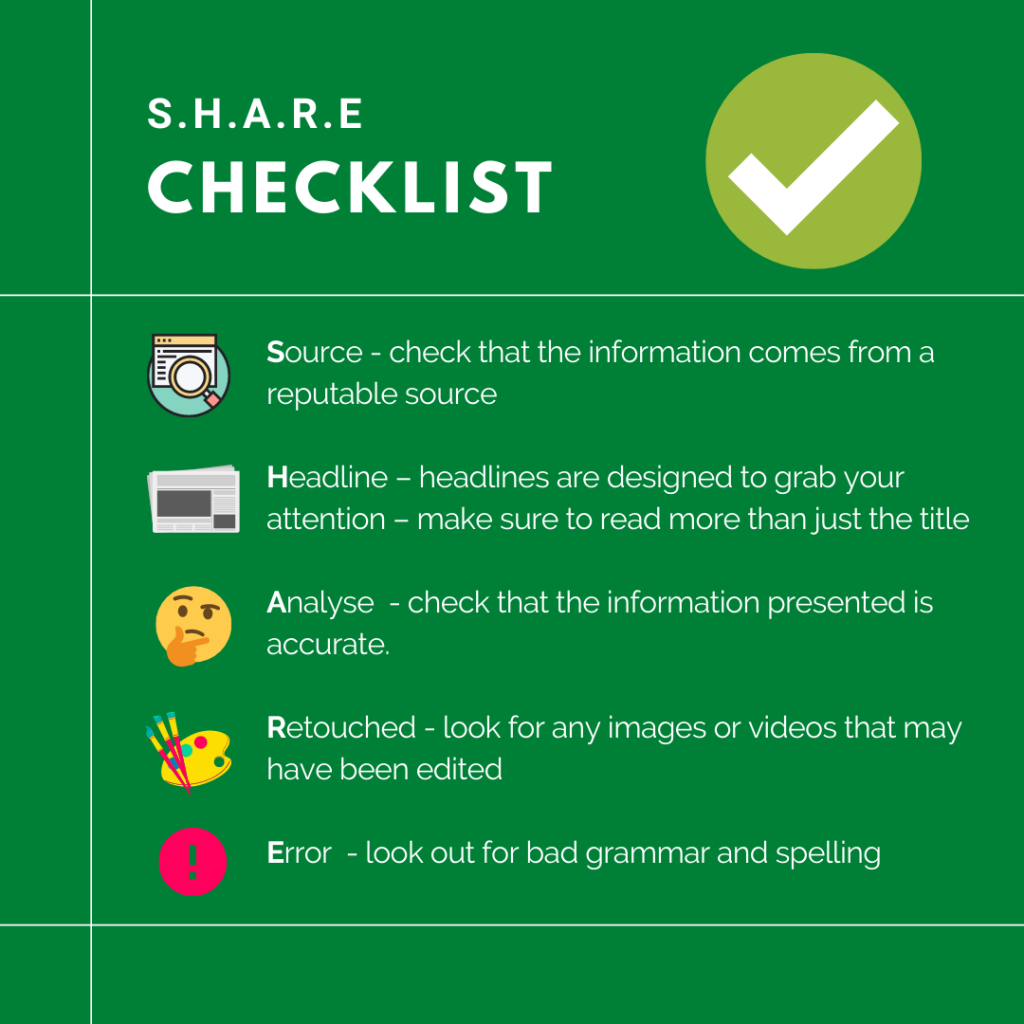 How to limit what you see online
The UK Safer Internet Centre offers advice on how filters can be set up on home and mobile networks to reduce the risk of viewing disturbing content.
Whilst these filters are often referred to as "Parental Controls", these filters can be used by anyone to limit what is visible to them online and can be utilised by all.
How to respond to negative things students have seen online
If students come across distressing content on a particular platform, it can be reported to the Educate Against Hate website. Online content which promotes terrorism or extremism can also be reported on GOV.UK. Reporting content is anonymous.
Additional support is offered if you find a student is upset or concerned by something they see or witness online. Samaritans, Mind and BEAT are helpful websites to visit for further guidance.
If you think a child might be at risk and are not sure what to do next, or you are concerned about extremism in a school or organisation that works with children, contact the Department for Education's helpline on 020 7340 7264.
And finally… Keep data secure
It is important that any personal details shared online are controlled due to identity theft or fraudulent activity. This can be done by adjusting privacy and safety settings as appropriate in applications or websites in order to increase the security of your data.
You can add protection to the accessibility of accounts by ensuring that your passwords are complex and by enabling two-factor-authentication. This adds an additional layer of protection by requesting login approval via text message or push notification.
Ensure that software updates are regularly installed as they often contain security updates that help to keep your device protected.
Educate Against Hate's top three resources for Online Safety advice:
Let's Talk About it – An informative website providing help and advice to the public to understand Prevent, Channel and the signs of radicalisation. There are also hints and tips to make sure students know how to stay safe from extreme ideology and grooming online.
Tower Hamlets Secondary Resources – The lesson plan outlines how certain types of online material can be harmful and how students can be safer online.
Be Internet Citizens – The lessons aim to build young people's critical thinking skills whilst developing their resilience to hate and extremism through a range of engaging exercises.