Welcome to your 23-24 Educate Against Hate Calendar!
Last year, we launched our first Educate Against Hate (EAH) calendar to help safeguarding leads and teachers identify awareness days and weeks, anniversaries, and other dates when they might want to talk to their students about extremism and radicalisation. This year, the EAH team have created a new version of the calendar for the 23-24 academic year, but with some key improvements to make it an even better tool for the education sector to use when planning ahead this year.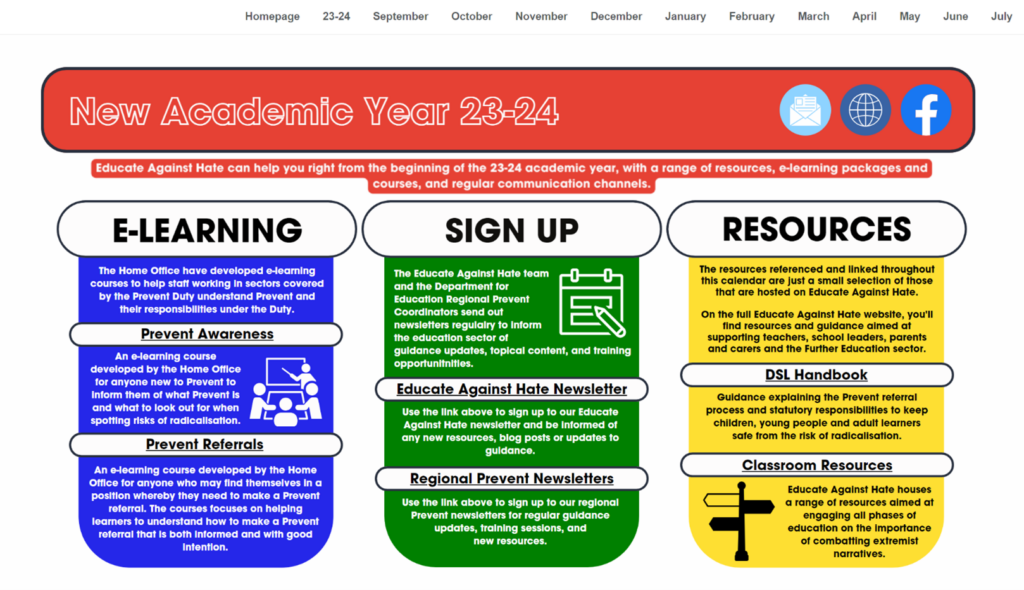 What's new in this year's edition of the calendar?
The most significant change that you'll notice between the 22-23 and 23-24 editions of the calendar, is that this year we decided to also launch it as a fully functional webpage with links to resources and integrated video content, including clips from our Let's Discuss resources. This means the calendar is easier to use, we can update it with new resources as they're added to the site, and we'll still keep it available as a PDF and iCalendar too.  
The calendar takes on the format of a continuous timeline from September 2023 to July 2024. You can make your way through the calendar either by scrolling or using the navigation bar at the top of the screen. Each month includes key dates, anniversaries, and awareness and celebration events alongside a brief explanation of the importance of each date. For each item you'll find links to resources available on Educate Against Hate that can support you in engaging with your learners about the topics relating to the events of the month.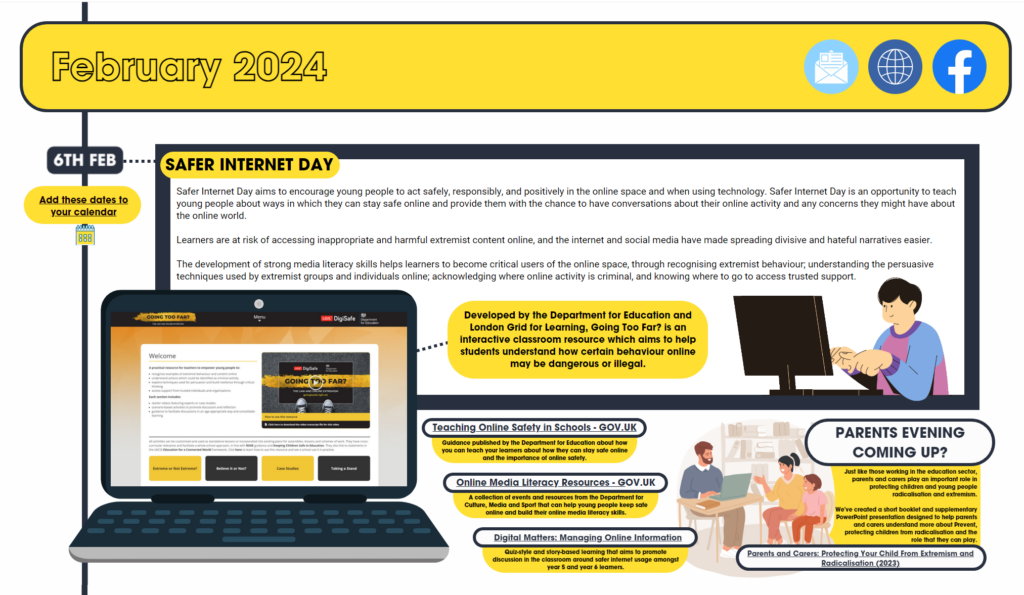 Each month also has three buttons at the top of the page that will give you the opportunity to sign up to our newsletter, access the Educate Against Hate website, or visit our Facebook page, as well as an option along the timeline to add all the calendar dates to your own virtual calendar on Outlook or Teams, via the iCalendar function. 
Improving the calendar with feedback 
This year we worked closely with a member of the Prevent Education Officer network to make sure the calendar was suited to meet your needs as an educator. Amy had this to say about this year's calendar: 
"Approaching sensitive or complex topics can be daunting, but this calendar aims to support staff in interweaving lessons of tolerance and diversity throughout the year to proactively build cohesion. There may be some events in the calendar which resonate heavily with your setting's community, but the linked resources cover a breadth of topics to develop an understanding of universal experiences of difference and overcoming division. Through this, I hope that this resource will help staff to facilitate discussions about tolerance and respect for all in society- including and especially marginalised groups- throughout the year and, in turn, boost learners' resilience to divisive rhetoric." 
Amy Strode, Prevent Education Officer / Interim Prevent Coordinator for the London Borough of Waltham Forest 
---
The Educate Against Hate 23-24 Calendar is available now.